Hallo und herzlich willkommen!

Geboren bin ich, ebenso wie viele andere "Showgrößen", in Solingen. Meine erste Rock n´ Roll - Show hatte ich bereits mit elf Jahren mit meinem Freund und zwei Tennisschlägern im Hinterhof auf der Laderampe. Vorher gab es "wilde" Lehrzeiten mit Blockflöte, Geige, Trompete und Tenorhorn..... Oh je!
Aber immerhin kann ich seitdem Noten lesen.
Ein Jahr später hatte ich meine erste eigene Band mit acht Musikern und: Dash-Trommeln, Wanderklampfen, Plastik-Harmonika und DREI!!! Sängerinnen. - Aber niemand von uns wusste so genau wie man eine Akustikgitarre wie einen Bass spielt. Nach ein paar schlaflosen Nächten kam mir irgendwann die Erleuchtung: Zwei Saiten von der Gitarre durchschneiden und Du hast einen Bass. Gott sei Dank zerschnitt ich die richtigen zwei Saiten.....

Zwei Jahre in einer Bluesband mit zwei sehr "virtuosen" Gitarristen aber ohne Bluesstimme - ich denke, dafür waren wir einfach noch zu jung - brachten mich zu meinem ersten Bandausstieg. Rock-Bands wie Uriah Heep, Golden Earring, Steppenwolf, Grand Funk, Deep Purple, Nazareth und Sweet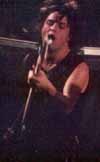 haben mich zu der Zeit geprägt.
Mit 17 Jahren wurde ich Bandmitglied bei ACCEPT. Zunächst als Keyboarder!!! - Da staunt Ihr, wie? - später natürlich als Bassist).
In den fünf Jahren bei ACCEPT habe ich mich entschieden, Profimusiker zu werden und gründete dann zusammen mit dem ACCEPT Drummer Frank Friedrich meine eigene Band BAD STEVE. Mit verschiedenem Line Up sind wir 8 Jahre durch ganz Europa getourt, haben ein Album aufgenommen incl. Hitsingle und diversen Fernsehauftritten und haben fast alle Bandwettbewerbe gewonnen. Während der Zeit mit BAD STEVE habe ich meine Liebe zur Covermusik entdeckt.

1982 bin ich bei der Deutschrockband LICHTBLICK eingestiegen, wir haben Alben und Singles veröffentlicht waren sogar im ROCKPALAST und oft im Fernsehen und sind über 2 Jahre durch ganz Deutschland getourt. War eine heiße Zeit! 1988 bin ich für ein Jahr zu U.D.O. , der Band vo Ex-Accept-Sänger Udo Dirkschneider gestoßen. Wir haben "Animal House" - Songs und ACCEPT -Highlights gespielt und tourten durch Europa und die USA. Der Höhepunkt war eine Tour mit LITA FORD und GUNS & ROSES.

Über die ganzen Jahre habe ich mit vielen deutschen und internationalen Stars und Künstlern gearbeitet und auch viele Songs geschrieben, allerdings bis heute nie meine Liebe zur Interpretation guter Songs verloren. SCHOLLE & HIS FRIENDS aus Wuppertal z. B. waren über 10 Jahr lang ein wichtiger Abschnitt in meinem Leben. Ich spiele seit 1994 mit der Solinger Kultband PIRATES OF LOVE, einer tollen Unplugged - Coverband und verschiedenen Künstlern aus der intern. Irish - Pub Szene wie z.B. FUNKY FRANK und STEWART from Chicago. 2003 traf ich den in Kalifornien lebenden Solinger Keyboarder Martin Gerschwitz (Eric Burdon, Meat Loaf, Lita Ford, Iron Butterfly)(www.allesklarmusic.com) wieder und gehöre zur Urbesetzung seiner Band MARTIN GERSCHWITZ & FRIENDS.

Aktuell mache ich Musik mit FUNKY FRANK aus Wiesbaden, den PIRATES OF LOVE aus Solingen, JUSTIN NOVA aus Karlsruhe (www.justinnovaband.de) und ganz neu ein Vocal-Trio aus Mannheim: DIETER - CHRIS & SARAH.

Sucht Ihr einen Bassisten incl. Backing-Vocals, auch Git. / Keyb. / Mandoline / etc. so stehe ich gerne zur Verfügung. Die meisten Songs der letzten 5 Jahrzehnte sind mir geläufig. Mein Repertoire reicht vom Rock-Konzert bis zur GALA-BAND - Garantiert keine aufwendige Probearbeit!!!

Ganz neu ist auch das hauseigene PARA -TONSTUDIO mit allen Möglichkeiten für professionelle Ton - Aufnahmen.
Ich freue mich auf Euch!
Dieter


Hello everbody and welcome in my life as a musician !
If someone need a bass or rhythm guitar player you may call me. I play the most popular songs from the last four centuries - history or charts - guaranteed no rehearsals!
Once upon a long ago, using a tennis racket as a guitar, I performed "Band" with my friend on the backyard ramp at my families house. That was my first Rock´n Roll show at the age of eleven. Years before I'd practiced to blow the recorder and scratch the violin. And we do better not talk about the trumpet and French horn part. That was really "ouch", but it has shown me to read sheet music....

One year later my first "eight pieces band" was alive with empty detergent drums, three acc guitars, one plastic mouth-organ and three!!! female vocalists. But nobody knew how to handle a six string acc like a bass guitar. After several sleepless nights I've seen the holy light:
Two strings left and that's it! Fortunately I'd cut off the right strings......

Two years bass playing in a blues band with two genius guitar wheedlers but without cool blues vocals (Finally I think we were too young for blues voice) forced me to do the first cancellation in my life. Bands like Uriah Heep, Golden Earring, Steppenwolf, Grand Funk Railroad, Deep Purple, Nazareth and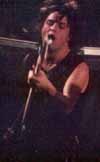 Sweet!! had shown me the way to Rock at that time.
At sweet seventeen I became a member of ACCEPT - first as a electric-piano player !!! – later I played bass guitar for around five years. During this time I fell in love with cover music and I'd started working as a professional musician.
After break I formed my own band called BAD STEVE together with the Accept drummer Frank Friedrich. We did a lot of great shows in Germany and Holland. We realized an album that produced a hit single, TV-show appearances and won a lot of contests.
SCHOLLE & HIS FRIENDS, a "local hero cover rock band" (what a word !!) was a very important part in my life over ten years - also with album releases.
In 1982 I became a member in a "German rock band" called LICHTBLICK with album and single releases and we're rockin' all over Germany for two years. That was a great and real hot time – oh yeah !!
In 1988 I joined "U.D.O.", wich was formed by ex-Accept Leadsinger Udo Dirkschneider. We're touring in Europe and USA, playing his "Animal House" songs and some ACCEPT highlights. The biggest thing that time was a tour package with SODIAC MINDWARP, LITA FORD and GUNS & ROSES.

All over the years I worked with many different German and international acts and music styles and wrote my own songs, but I never lost my love in cover music.



From 2003 to 2005 I was a basic member of MARTIN GERSCHWITZ & FRIENDS (www.allesklarmusic.com). Martin and I were born in the same town - Solingen Martin join IRON BUTTERFLY as a keyboarder and singer. Before he was a member of ERIC BURDON, LITA FORD, MEAT LOAF and WALTER TRAUT.
I still practice cover music as a member of "THE PIRATES OF LOVE", very good friends and the fuckin´ best unplugged sound band I ever played with - listen our CD - and various great artists from the "Irish pub scene" - specially named: FUNKY FRANK and STEWART from Chicago. I also try new sounds with JUSTIN NOVA, CHRIS WÜST, SARAH REINISH and others.

Finally, I am very proud to spend my life with all these great singers, musicians, composers and actors, which appeared (or not) in my little biography. And I'm lookin' forward to meet all you music lovers.
God bless you all and keep on rockin'
Dieter